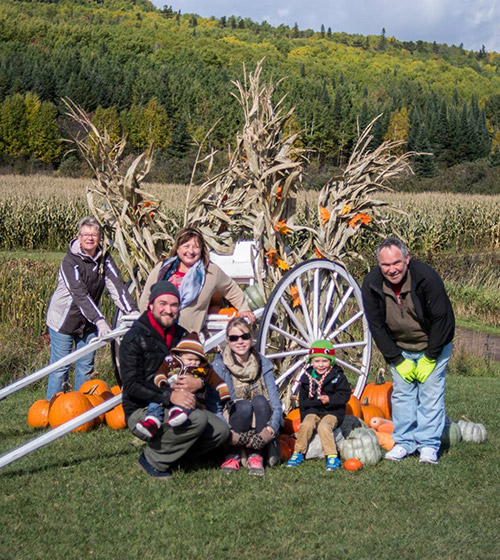 5 weekends! Over 20 Attractions!
PUMPKINFEST
29th Annual PUMPKINFEST
GAMMONDALE FARM
5 weekends
Open 11am to 5pm 
Sat. Sept. 30th – Sun. Oct. 29th.
includes Thanksgiving Mon. Oct. 9th
PUMPKINFEST tickets will go on sale online beginning Wednesday, September 6, 2023. 
$19.75 (+HST) per person ages 2 to 92. Babies under 2 are free.
You do not need to make a reservation or purchase a ticket for a baby under 2 years.
TICKETS ARE NON-REFUNDABLE 
PUMPKINFEST is open rain or shine. Tickets cannot be cancelled, transferred or refunded because of bad weather. However, we will issue a rain check if we close some activities due to bad weather. 
Please contact Sue at 807-472-4691 if you have questions or concerns.
2023 Needle in a Haystack Photo Contest
Find the secret scene and take a photo of your group. Post your photo to Gammondale Farm Family Fun Facebook page to win prizes! The grand prize winner will win a Winter Sleigh Ride and Spaghetti Supper for 15.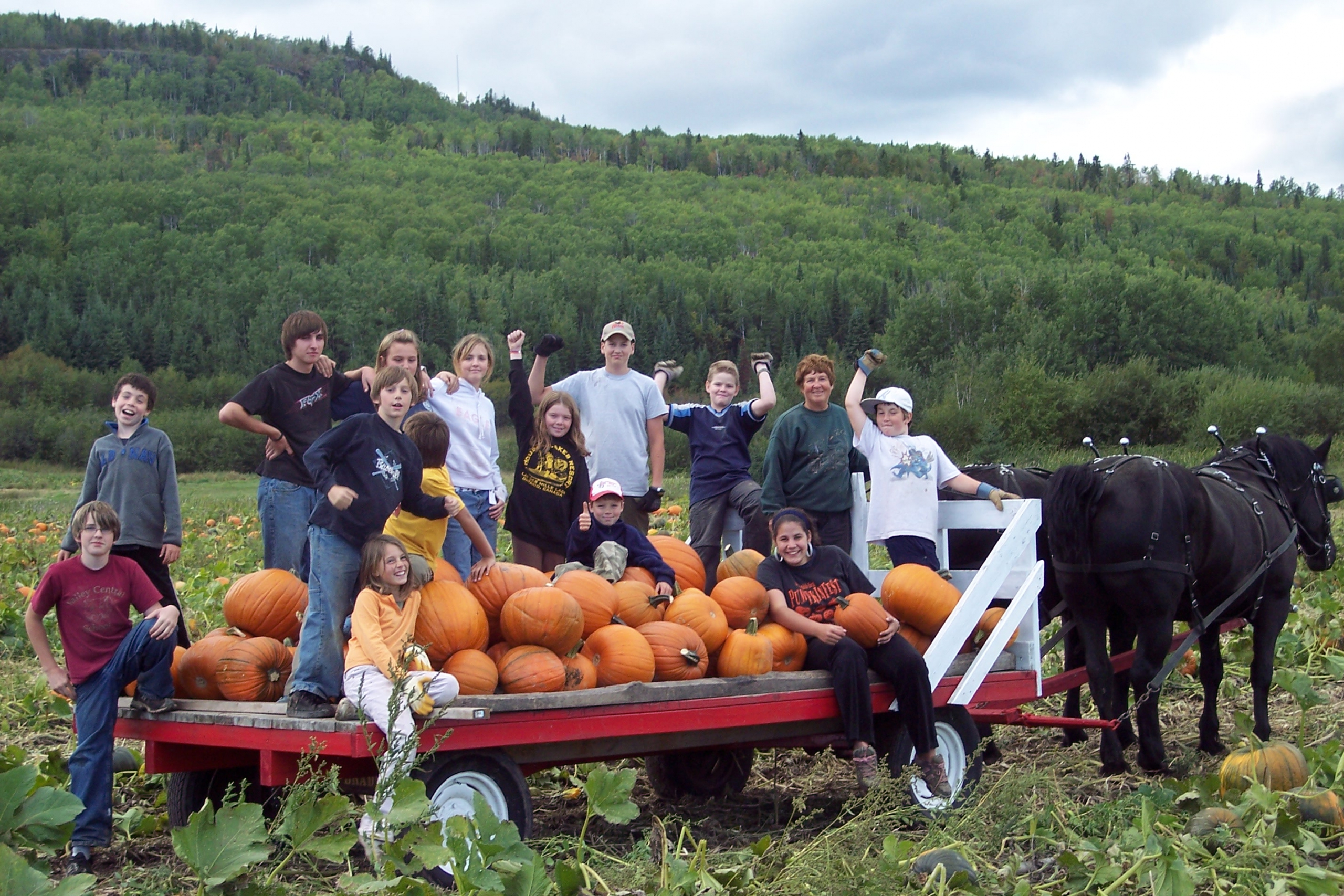 WHAT TO EXPECT WHEN YOU ARRIVE AT PUMPKINFEST ON WEEKENDS
You will be greeted at the gate.

You will show your online receipt for the pre-purchased tickets (either printed or digital) along with photo ID of the person who purchased the tickets or the name added to the ticket at time of purchase.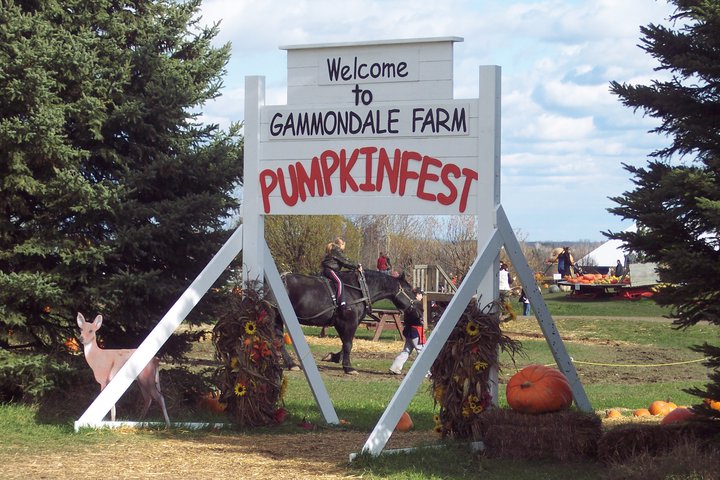 Our annual PUMPKINFEST is the way Gammondale Farm celebrates the magic of Autumn. Sitting at the base of Candy Mountain in the Slate River Valley, our farm illuminates with warm colour and creates a beautiful backdrop for our seasonal outdoor activities and events. Gammondale's Forest Maze on the mountain is a beautiful place to explore.
Although we love animals, in consideration of all our guests, please do not bring your pets to PUMPKINFEST.
For 29 years, Gammondale Farm has been a Thunder Bay family tradition. There are tons of outdoor attractions including Picking out an Amazing Pumpkin, Canada's Biggest Pumpkin Catapult, Pumpkin Train and Pumpkin Slingshot. Get up close and personal with Northwestern Ontario's biggest horse, Ike, one of our Gentle giant Percheron horses. Other attractions included in the price of admission are the Bronco Train, Corn Cannon, "BOO" Barn, Farm Animals, Monster Forest Maze, Barnyard Maze, Trike Trails, Duck Races, Tire'd Horses, Straw Mountain, *new* No Left Turns Maze, *new* Farm Hoppers and "Needle in a Haystack" Photo Contest. 
To ensure maximum safety and to control the number of visitors on the farm, you should plan to buy your tickets in advance online.
Please contact Gammondale Farm if you need help. Arrival times are every hour with limited capacity per time slot. Plan to spend about 2 hours at PUMPKINFEST to enjoy all the amazing activities.
Please keep in mind that dogs and other pets are not allowed to attend PUMPKINFEST.
PUMPKINFEST Lots of attractions for visitors to enjoy
Canada's Largest Pumpkin Catapult

Northwestern Ontario's Largest Horse, "IKE".

Pumpkin Sling Shots

Pumpkin Train

Farm Animals – 4 Gentle Giant Draft Horses, Goats, Rabbits and Hens

3-acre Monster Nature Trail
How Tall This Fall?

Corn Cannon

Straw Mountain

Bronco Train

Duck Races

Black Tired Horses

BOO Barn

Barnyard Maze

*new* No Left Turns Maze

*new* Farm Hoppers
Tons of Pumpkin and Displays

optional: Gentle Giant Draft Horse Rides $7/Ride 12:30pm to 2pm. 2:30pm to 4pm. 
Pumpkinfest birthday parties and other private events are not available on weekends in 2023. Please visit our Birthday Parties page for more information.
However, weekdays in September and October, can be reserved for private events.